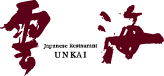 Tokyo, Japan
Unkai Japanese Restaurant
Email ENQUIRY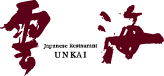 Tokyo, Japan
Unkai Japanese Restaurant
Tokyo, Japan
Unkai Japanese Restaurant
Overlooking the manicured perfection of a traditional garden and pond designed to highlight each season's beauty...
Japanese Restaurant Unkai showcases the essence of Japanese cuisine and regional specialties using carefully selected fresh seasonal ingredients.

Situated at the ANA InterContinental Tokyo, diners can savour traditional cuisine, including the famous multiple-course Kaiseki degustation meal, while being served by traditionally dressed kimono staff in the private Tatami dining rooms.

Master Chef Yohiyasu is devoted to discovering new ways of presenting Japanese Kaiseki at Unkai. His signature dishes are intertwined with the stories he recalls of his ancient roots. He would personally like to extend a warm welcome to experience the blend of the old and the new in Japanese culinary arts at Unkai.
Unkai Japanese Restaurant
Features & Facilities